In the last 20 years the proportion of UK grown roundwood used for woodfuel has increased significantly. Biomass material is at the forefront of that growth as companies and individuals alike embrace more sustainable fuel material in the government driven push to be carbon neutral by 2050.
The rise of this market has opened up possibilities for woodlands that weren't previously managed either because they contained poor quality timber that had little market value or required too much preliminary work at a cost to gain access to more valuable compartments. Biomass offers woodland owners the opportunity to receive some return from material cut which can cover the cost, or at least cover part of the cost of required woodland work. Whilst biomass material will never be able to offer the guaranteed returns of high quality timber, it can be explored as another option.
Woodland ownership is not just about the bottom line and its commercial return. It's about investing in the future of the UK landscape and helping our woodlands continue to grow and develop, protecting vital biodiversity and offering natural spaces for the public to explore and enjoy.
We offer a complete service for self-sufficient estates that are using their own material for their biomass boilers. From the first stage of creating a woodland management plan and felling license applications, to felling, extracting and chipping the timber, we can look after all aspects in house with one main point of contact.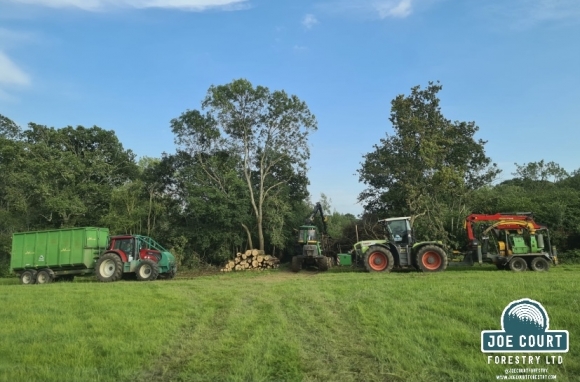 Need a quote? contact us @info@joecourtforestry.com