Ash Dieback (Hymenoscyphus fraxineus) is a fungal air borne disease that is going to change the UK's woodland landscape. According to Forest Research, the principal organisation for forestry research, Chalara ash dieback will cause significant damage to the UK's ash population with implications for the forestry industry as a whole. Ash is one of our most useful and versatile native tree species, providing valuable habitat for a wide range of dependent species whilst its' timber has multiple uses from firewood to high end furniture.
Joe Court Forestry have the knowledge and experience to deal with dying Ash trees in a safe and efficient manner. If diagnosed at the early stages, trees can be felled motor manually or climbed if they require dismantling. However, as the disease progresses the unpredictability of the trees increases the risk of falling limbs, requiring mechanised harvesting to ensure the safety of all workers. Safety is imperative when dealing with Ash dieback, both to our team and to the public. For roadside trees we work with a number of reputable traffic management companies to ensure that all roadside trees are removed safely and with minimal threat to passing vehicles.
Replanting – if your woodland has been greatly impacted by Ash Dieback then it is worth considering investing in replanting to ensure the viability of your woodland and to protect essential habitats and biodiversity. Check out Woodland Management for further details.
For further information on identifying Ash Dieback, please see the Forestry Commission & DEFRA's 'Managing Ash Dieback in England'.
Want to see us in action? Videos of us safely dismantling diseased Ash trees can be found here.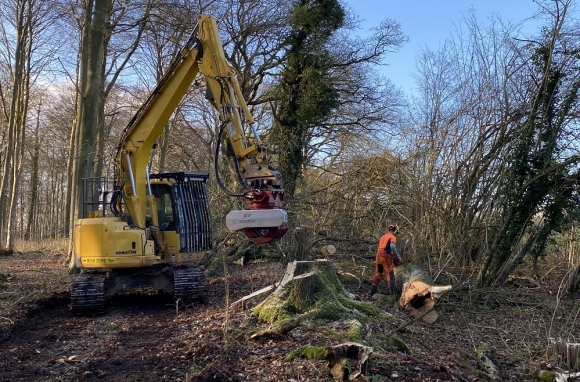 Need a quote? contact us @info@joecourtforestry.com